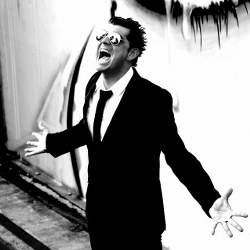 Eigenschappen Danzel boeken
Danzel boeken?
Danzel boeken of inhuren voor een optreden?
BURO2010 is Nederlands grootste artiestenbureau waar u alle artiesten direct en online kunt boeken tegen de laagste prijzen. Op deze pagina vindt u alle informatie met betrekking tot het boeken van Danzel.
Wij informeren u binnen één dag over de beschikbaarheid en de prijs van Danzel.
Boeken via BURO2010: direct, snel, duidelijk en voor de beste prijs!
Wilt u gratis een offerte van Danzel ontvangen, beschikbaarheid opvragen, en/of direct een vrijblijvende optie in de agenda van Danzel plaatsen?
Vraag vrijblijvend een offerte aan.
Prijzen zijn exclusief BTW.
Check prijs en beschikbaarheid
Teken en retourneer het contract
Bekijk optreden van Danzel
Extra informatie Danzel
Biografie Danzel
Danzel, whose actual name is Johan Waem, was one of the final 20 contestants of the Belgian version of 'Idol' (called Idool 2003). 'Idol' is a worldwide spread television show which tries to determine who is the country's hottest, new musical talent.
Three thousand youngsters participated and only 20 were selected for the big final. Danzel was one of those lucky twenty. It was his chance to show the world what he was capable of.
And, his performance did not stay unnoticed: he proved to have a very remarkable, soulful voice and an enticing personality. The down-to-earth chap with spiky hair and blue glasses left a very good impression. Not in the least on the ladies, we might add. No wonder that he reached the finals.
Danzel has always been interested in singing. When he was 15 he started the pop-rockband 'Scherp op Snee', in which he sang and played the bass guitar. Apart from that he was a backing singer for the 'L.A. Band', which did a lot of gigs with many famous Belgian artists. But Danzel does more: he plays the piano, guitar, bass-guitar and, being an all round musician and entertainer, he also composes and writes his own music lyrics. By the way, did you know he worked as a DJ-entertainer in a karaoke bar? Well, that is where he developed his excellent MC-skills…
After Idool 2003 he got in contact with his producer Jaco Van Rijswijk and his current recordcompany N.E.W.S. and they gave him the chance to record his debut-single 'Pump it up'. He used the artist name Danzel, a name which refers to Johan's favourite actor: Denzel Washington.
'Pump it up' was a remake of a song by the Black and White brothers. Danzel's remake was released at the end of 2003, only on 300 copies. A limited edition on yellow vinyl. People reacted very enthusiastically. The record was picked up by Airplay Records (France) and The Underdog Project producers (DJ Frank and Andy Janssens, at that time the producer of Kate Ryan) complimented Danzel on his version. The videoclip for the song was shot in a striptease club downtown Ghent. On the annual music fair Midem (Cannes, France – last week of January) Danzel was licensed to the rest of Europe and some other, far away countries. At the Midem 2004 Closing Party the famous French DJ Charles Schillings – who played after UK Radio 1's Pete Tong – played 'Pump it Up' two times during his set !!
That's how it all began…
With an amazing domino-effect 'Pump it up' was hyped by dj's all over the world, France was the first country that fell for Danzel's 'funky-groove'-sound. No wonder he ended up on n°6 of the single-charts in just a few weeks in France. Because of that, he was booked by clubs all over France and did an amazingly 65 shows in two and a half months. His wildest dreams became true when he was one of the artists on 'Fête De La Musique 2004', an annual live show held on the 21st of June in France for celebrating music. Danzel stood there together with artists like Jamelia, Paul young, Zucchero in front of an audience that exceeded 200.000 people.
After that, Germany followed and Danzel ended up even higher in the charts there : on n°4. He even managed to be the first artist to end up on n°1 in all German dance-charts. No need to say he did big festivals and a lot of clubshows there too.
Countries like: Russia, Poland, Turkey, Denmark, Austria, Switzerland, Italy, Holland and even Ukraine and the U.S.A. were visited by Danzel to do numerous shows.
Critics called Danzel a 'one hit wonder' but now, almost 4 years after the recording of 'Pump it up', he has done an enormously amount of shows all over the world, he released numerous
hitingles, his debutalbum 'The Name Of The Jam' , which was a hit-album in a lot of countries, and even a "best of" – album in Poland.
He got an "Eska Award" in Poland, an "MTV Music Award" in Russia, golden records for the sales of singles and albums, just to name a few of the things he and his record companies accomplished.
After 'Pump It Up', 'You Are All Of That', 'Home again', 'Put Your Hands Up In The Air!', 'My arms keep missing you' (together with DJ F.R.A.N.K.), 'Undercover' (which was selected for the Polish Eurosong preselection) and 'Jump' Danzel is back with a brand new single called 'Spin me around' which comes with a funny video we might add so….
"Sit down, relax and enjoy the ride, because Danzel is on a roll !" 
Danzel boeken? Informeer vrijblijvend naar de mogelijkheden.
Danzel boeken? Informeer vrijblijvend naar de boekingsmogelijkheden van Danzel.
Wilt u extra boekingsinformatie ontvangen over het boeken of inhuren van Danzel, neem dan gerust contact met ons op.
Onze accountmanagers informeren u graag, gratis en vrijblijvend over de meest actuele prijs van Danzel en de eventuele overige kosten om een optreden van Danzel mogelijk te maken (o.a. podium, techniek, optionele verzekering, btw-%).
BURO2010 is het directe en officiële boekingskantoor voor de boekingen van vele andere bekende artiesten, sprekers, sporters en overig entertainment. Artiestenburo2010.nl is tevens boekingsbureau van Danzel.
Wij staan in direct contact met alle artiestenmanagements en kunnen u binnen een dag voorzien van een offerte voor Danzel. Uiteraard kunnen wij voor u ook de beschikbaarheid van Danzel checken, een gratis optie plaatsen op Danzel en de boeking(en) van Danzel voor u administreren en bevestigen middels een contract (geen extra boekingskosten!).
Wilt u meer artiesten boeken, ander entertainment inhuren, of zoekt u een professionele partner voor de regie, productie en totaalorganisatie van uw event? Laat u vrijblijvend informeren via: info@buro2010.nl – 036-7600140.
MANAGEMENT Danzel, BOEKINGSBUREAU Danzel, BOEKINGSBURO Danzel, ENTERTAINMENTBUREAU Danzel, ENTERTAINMENTBURO Danzel, ARTIESTENBUREAU Danzel, BOEKINGSKANTOOR Danzel, IMPRESARIAAT Danzel, MUZIEKBURO Danzel, MUZIEKBUREAU Danzel, ARTIESTENBOEKINGSBUREAU Danzel, ARTIESTENBOEKINGSBURO Danzel, ARTIESTENBOEKINGSKANTOOR Danzel.
Offerte Danzel aanvragen bij BURO2010:
Wij helpen u graag
bij uw boeking