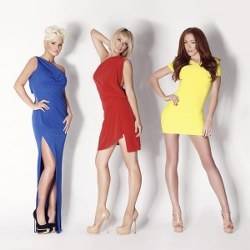 Eigenschappen Atomic Kitten boeken
Atomic Kitten boeken?
Atomic Kitten boeken of inhuren voor een optreden?
BURO2010 is Nederlands grootste artiestenbureau waar u alle artiesten direct en online kunt boeken tegen de laagste prijzen. Op deze pagina vindt u alle informatie met betrekking tot het boeken van Atomic Kitten.
Wij informeren u binnen één dag over de beschikbaarheid en de prijs van Atomic Kitten.
Boeken via BURO2010: direct, snel, duidelijk en voor de beste prijs!
Wilt u gratis een offerte van Atomic Kitten ontvangen, beschikbaarheid opvragen, en/of direct een vrijblijvende optie in de agenda van Atomic Kitten plaatsen?
Vraag vrijblijvend een offerte aan.
Prijzen zijn exclusief BTW.
Check prijs en beschikbaarheid
Teken en retourneer het contract
Bekijk optreden van Atomic Kitten
Extra informatie Atomic Kitten
Biografie Atomic Kitten
Atomic Kitten were formed in 1998 and broke onto the national conscious in late 1999 with their debut single 'Right Now' which jumped straight into the UK Top 10 eventually spending 7 weeks in the Top 40.  Their follow-up – the infectious and melody-laden 'See Ya', released in March of 2000 – crash-landed into the charts at number 6 with the 3rd single, "I Want Your Love" also hitting the top ten.  The tracks perfectly picked up the lyrical theme coursing through every Atomic Kitten song
 Having started the ball rolling here in the UK, the girls added to their success with barnstorming TV and radio performances abroad. 'See Ya' was used to front Fiat's campaigns in France and Italy and was also heard in cinemas worldwide in the smash hit movie 'Bring It On' while 'I Want your Love' made European territories like Germany and Scandinavia prick up their ears at this new British girl group.
Throughout 2000, the band enjoyed hugely successful visits to Japan and were also chosen as the "face of MTV Asia" at the forefront of MTV's new campaign which began in Beijing in June which saw the Kittens reaching an incredible audience of 675 million people with a roof-raising performance on the MTV Asia awards alongside Aqua and Alanis Morissette, more than a billion viewers across Asia soon became acquainted with the Kitten's sparkling pop sound quickly establishing them as one of the most popular UK groups in the region.
The beginning of 2001 and Atomic Kitten were about to launch 'Whole Again' when founder member Kerry Katona announced her decision to leave the band to marry her sweetheart and have children…Kerry felt she had had enough of fame and wanted the quiet life…more of her 'quiet life' later!
The natural choice to succeed her was their good friend Jenny Frost, 23, also from Liverpool.  Jenny had been a member of the girl band Precious – playing many of the same shows and tours that AK were performing at.
Jenny officially joined the band in January 2001 and AK Mk2 was born.
Atomic Kitten 2003
Atomic Kitten's fans stood by the girls throughout this transformation, and catapulted the new look Atomic Kitten and 'Whole Again' straight in to Number One.  The single stayed at the top of the charts for an amazing four weeks, beating off competition from U2 amongst others, and breaking a Guinness Record in the process.  It took Liverpool to the top of the global list for the city with the most number 1s ahead of Detroit while Atomic Kitten became the girl group with the longest stay in the UK top 40 beating The Spice Girls record for Wannabe.
'Whole Again' remains one of the biggest selling singles of the last decade in the UK as well as being an international smash and Kitten fever soon spread across Europe, including a fantastic six weeks at number 1 in Germany. The song was a #1 in 19 countries.
Following on from the phenomenal worldwide success of 'Whole Again', pop's feistiest trio returned for another heavyweight assault on the UK charts with their Bangles cover, 'Eternal Flame'. Mixing the classic 80's song with the Kittens distinctive identity AK banked another number one. August saw the UK re-release of their debut album 'Right Now'. Featuring brand new songs and classic Kitten hits, 'Right Now' rocketed to No.1 – staying at the top of the charts for two weeks, keeping David Gray and Prince from that elusive spot.
The Kittens' massive success in 2001 took them to a whole new level.  From topping the charts all over the world to pinning their AK slogan across Prince Charles' chest (as guests of HRH at The 2001 Party In The Park), the Kittens also picked up a number of awards along the way.  These include the 2001 Disney Awards for Best Pop Act and World's Sexiest Females, a Best Pop Act nomination at the MTV Europe Awards, a Smash Hits Poll Winners Award for Best Single ('Whole Again') and the Music Week award for Best Pop act online with AtomicKitten.com.  In 2002 their hard work continued to shine with BRIT Award nominations in two categories: 'Best Pop Single' for 'Whole Again' and 'Best British Newcomer'.  2nd Album "Feels So Good" was another number one album and spawned another run of huge hits including "It's OK", "Love Doesn't Have to Hurt" and the monster hit "The Tide is High" as well as the double A side single "Be With You"/"The Last Goodbye".  The year saw the band pick up the Capital Award for best pop group, play at Buckingham Palace with Phil Collins and they also hit the number one spot in the singles, albums and DVD charts simultaneously – another first for a girl group.
Their 3rd album "Ladies Night" was also packed with more top ten hits including the Kool and the Gang collaboration as well as the hits "If You Come to Me" and, what proved to be the band's final single, the Liz penned and hauntingly beautiful "Someone Like Me".
Taking an extended break after the album the girls finished on a high with a sold out UK arena tour and a greatest hits album and DVD.
In 5 years Atomic Kitten kicked their way into the national pop psyche and became the biggest girl group in Europe. They generated more press than any other UK act with their every move photographed and celebrated. Their charitable work trumped any other group with them becoming patrons of Worldvision, Unicef, Save the Children, Breast Cancer research and a myriad of smaller more personal charities.
The band still gig regularly around the world, in 2006 The Kittens performed at the Nokia New Years Eve Global party, across 5 continents and alongside The Black Eyed Peas, Scissor Sisters and Nelly Furtado.  The girls headlined the show in Hong Kong which was broadcast to an audience of over 150 million.  They also delivered a hit charity single for the 2006 world cup in Germany and launched Liverpool's Echo arena with a sold out show in 2008 alongside 40 years of Liverpool number one acts..
From all their peers Atomic Kitten have seen the most successful solo careers for each of the members.  Liz' first single – the Robin Gibb collaboration on "Woman in Love" – was top 5 in the UK and she went on to starring roles in the stage production of Legally Blonde alongside numerous presenting roles on BBC including the hit 'Hotter Than My Daughter' – not to mention winning TV's Celebrity Masterchef and becoming a celebrated cook in her own right.
Natasha's debut "Round and Round" went to #1 in Brazil and top 10 on Billboard's US dance chart.  Natasha subsequently achieved critical acclaim as Mrs Johnstone in the legendary West End production of Blood Brothers and has presented numerous TV shows for broadcasters such as MTV and Channel 4 while her business ventures with husband Riad have seen the couple open more than 30 coffee shops and restaurants together.  Natasha is also mum to sons Josh, Harry and Alfie.
Jenny Frost developed a successful career as a TV presenter across hit shows like 'Snog Marry Avoid' and 'Ok TV' alongside numerous other TV and media roles and is mum to son Caspar, now married to Vinnie Jenny lives in Ibiza…
What of Kerry in the intervening years?  She became famous on an almost unprecedented tabloid frenzy level after winning 'I'm a Celebrity Get Me Out of Here' and facing down a string of personal crises in the public gaze before emerging triumphant and still as famous in 2012.  A regular TV presenter, author, OK columnist and media personality she thought the chance would probably never arise to take to the stage again with her former band.   Then, when Jenny Frost fell pregnant with twins in 2012 and the offer came for a primetime TV show about the band she had missed so much, she didn't need to think about it for very long…
Once an Atomic Kitten always an Atomic Kitten is the girls' mantra and proving they are still very much alive and purring and with a UK arena tour to follow in May the band are set for a high profile and high-octane return to the forefront of UK pop music.
Atomic Kitten boeken? Informeer vrijblijvend naar de mogelijkheden.
Atomic Kitten boeken? Informeer vrijblijvend naar de boekingsmogelijkheden van Atomic Kitten.
Wilt u extra boekingsinformatie ontvangen over het boeken of inhuren van Atomic Kitten, neem dan gerust contact met ons op.
Onze accountmanagers informeren u graag, gratis en vrijblijvend over de meest actuele prijs van Atomic Kitten en de eventuele overige kosten om een optreden van Atomic Kitten mogelijk te maken (o.a. podium, techniek, optionele verzekering, btw-%).
BURO2010 is het directe en officiële boekingskantoor voor de boekingen van vele andere bekende artiesten, sprekers, sporters en overig entertainment. Artiestenburo2010.nl is tevens boekingsbureau van Atomic Kitten.
Wij staan in direct contact met alle artiestenmanagements en kunnen u binnen een dag voorzien van een offerte voor Atomic Kitten. Uiteraard kunnen wij voor u ook de beschikbaarheid van Atomic Kitten checken, een gratis optie plaatsen op Atomic Kitten en de boeking(en) van Atomic Kitten voor u administreren en bevestigen middels een contract (geen extra boekingskosten!).
Wilt u meer artiesten boeken, ander entertainment inhuren, of zoekt u een professionele partner voor de regie, productie en totaalorganisatie van uw event? Laat u vrijblijvend informeren via: info@buro2010.nl – 036-7600140.
MANAGEMENT Atomic Kitten, BOEKINGSBUREAU Atomic Kitten, BOEKINGSBURO Atomic Kitten, ENTERTAINMENTBUREAU Atomic Kitten, ENTERTAINMENTBURO Atomic Kitten, ARTIESTENBUREAU Atomic Kitten, BOEKINGSKANTOOR Atomic Kitten, IMPRESARIAAT Atomic Kitten, MUZIEKBURO Atomic Kitten, MUZIEKBUREAU Atomic Kitten, ARTIESTENBOEKINGSBUREAU Atomic Kitten, ARTIESTENBOEKINGSBURO Atomic Kitten, ARTIESTENBOEKINGSKANTOOR Atomic Kitten.
Offerte Atomic Kitten aanvragen bij BURO2010:
Wij helpen u graag
bij uw boeking